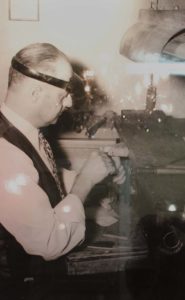 The Crinzi family has been in the jewelry business for over 80 years. Alessandro Crinzi brought Italian craftsmanship to Buffalo in the mid 1920s. Alex Crinzi Jewelers served as a jeweler's jeweler in Downtown Buffalo where retail jewelers would send their work for repair and custom fabrication.
Ray and John Crinzi followed in their father's footsteps with Ray learning goldsmithing and John setting diamonds and other precious stones. Ray Crinzi Jewelers and Gold Buying is now located on Main St. in Hamburg, NY. The family tradition continues with Ray and his grandson, Michael Baker, providing today's jewelry with old world craftsmanship
In addition to an array of completed work, custom designs are always welcome. The latest designing software can assist in your design. Ask for a demonstration of the Enhanced Creative Bar.